22 Jan 2020
5 Tools to Improve Your Meetings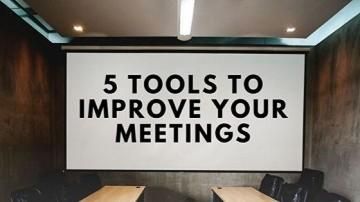 Current research shows that more than two-thirds of meetings are viewed as useless by leaders, with more than 27% of meetings being categorised as 'poorly run' or unnecessary'. Ineffective meetings are set to cost UK businesses £46 billion in 2019, and nearly $400 billion in the USA. Clearly, something needs to be done to make meetings less wasteful.
So, how can you go about making meetings more effective? Below, we will look at 5 tools that can help you eliminate wasted time and make your meetings more productive.

Wireless Presentation Systems
Tired of having to connect your laptop to the TV screen every time you enter the meeting room? There is a solution for that. Wireless presentation systems are devices that allow users to wirelessly present stream content from a phone, tablet, laptop or computer using screen mirroring technology. Simply load up your presentation on your device, and instantly share it on the TV screen or projector. This saves plenty of time in setting up the meeting room and also offers a quick way to switch the devices you stream the content from.

Interactive Whiteboard
Interactive whiteboards allow you to collaborate with many people at the same time. Like a traditional whiteboard, interactive ones allow you to start writing on the board, with the main difference being that you can simultaneously connect up to hundreds of people who can view the content of the board on their devices in real-time, no matter where in the world they are. This can save plenty of time as hundreds of people can gain instant access to the same presentation, and can all be updated at the same time, instead of having to conduct various meetings around offices to share the information.

Video Conferencing Systems
Every effective meeting room should have a good video conferencing system in place. With a camera, tv screen and a good speaker system in place, video conferencing can be a powerful way to run meetings. It allows geographical barriers to be removed and to connect people from different locations all in real-time.
When setting up video conferencing systems, you may want to think about what you need them for, so that you can optimise how they are set up in the room. For example, if you need to carry out presentations during a video conference, you may want to position the camera close to the presenter to ensure the best sound and picture is coming across.

Scheduling Bots
A tool to emerge more recently is scheduling bots. Powered by artificial intelligence, these bots connect to your work calendars and allow you to schedule meetings with people simply by putting a request in. Once the request is in, it will such for a suitable time which matches up on all parties calendars. This eliminates time in scheduling meetings.

Strong WiFi
This one should go without saying, but it's an area to where too many businesses fail. It is very important businesses have strong WiFi through their buildings, covering all locations in the office. If the WiFi connection is weak in meeting rooms, it could undermine the whole meeting as the picture and sound could be low quality, and so communicating is difficult.

In conclusion, these 5 tools can help you save time by avoiding ineffective meetings and also increase productivity by getting the most out of your meetings.